To laboratory site

Atmospheric Environmental Impact of Aerosols
Atmospheric aerosols play an important role in both local air pollution problems and global environmental issues such as global warming and acid rain. The magnitude of aerosol radiative forcing is quite uncertain and the effect is not uniform on a global scale. Optical properties and climatic relevance of atmospheric aerosols are quantitatively evaluated on the observational and calculation basis. Mechanism of wet and dry deposition of ambient gases and aerosols is also investigated both on outdoor measurement and calculation model basis.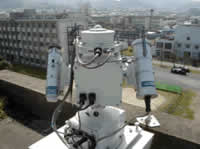 Characterization of Atmospheric Aerosols
Atmospheric aerosols have various physical and chemical properties depending on their generation and transformation processes in the atmosphere. Characterization of atmospheric aerosols is essential to understand their behaviors in the atmosphere and the resulting effects on the atmospheric environment. Main topic is development of sampling and analytical techniques for aerosols and rain/fog droplets. Single particle analysis is carried out by applying SEM-EDX, micro-PIXE (Particle Induced X-ray Emission) and X-ray Spectrometry using SR (Synchrotron Radiation) for aerosols and rain/fog droplets. Mixing thin film method is also developed to understand the mixing state of ions in individual aerosols.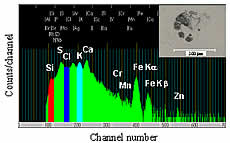 Energy and Environmental Life Cycle Analysis of Energy System
Methodology of life cycle assessment (LCA) is studied with an application of input-output analysis. Direct and embodied emission inventories of atmospheric environmental loads are created based on national and regional input-output tables. The inventories are applied to life cycle analysis of various energy systems with process analysis. Some case studies are also made for life cycle analysis of waste treatment and disposal systems. Monitoring and analysis of energy consumption in an economy hotel is being made to improve our lifestyle in terms of energy saving and reduction of environmental loads.