To laboratory site

Fundamental Study on Bioenergy Conversion
21st Century COE Program Bioenergy Research Task in 'Establishment of COE on Sustainable Energy System'
Atmospheric aerosols play an important role in both local air pollution problems and global environmental issues such as global warming and acid rain. The magnitude of aerosol radiative forcing is quite uncertain and the effect is not uniform on a global scale. Optical properties and climatic relevance of atmospheric aerosols are quantitatively evaluated on the observational and calculation basis. Mechanism of wet and dry deposition of ambient gases and aerosols is also investigated both on outdoor measurement and calculation model basis.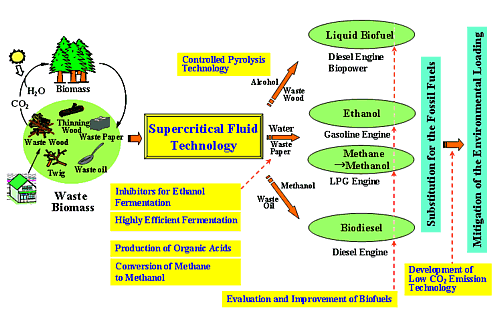 Research and Development on Biodiesel fuel
NEDO "High Efficiency Bioenergy Conversion Projects"
Our laboratory has developed a novel process for biodiesel fuel production from oils/fats by two-step supercritical methanol method. This research was selected as one of the NEDO "High Efficiency Bioenergy Conversion Projects" in 2003 with funding of \840 million ($ 8 million) over three years for the project. Asahi Kasei will work with us, Kyoto University, to build a bench plant to commercialize a process and Toyota Tsusho to undertake a market study. The picture shown is a test plant to get basic data for scaling up to the bench plant.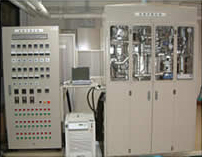 Research on the Energy and Environmental Issues
As evident in natural habitat expansion of butterflies, environmental issues including global warming, acid rain and emission of harmful substances, which are closely related to the usage of fossil fuels, become important more and more in our society. In order to solve these issues, our laboratory is conducting the following researches; 1) Topochemistry on TiO2-wood carbonized composite for decomposing harmful substances such as formaldehyde and NOx, 2) development of environmentally friendly wood-inorganic composites, 3) a role of forest ecosystem on sustainable production of biomass harmonized with the global carbon cycle on the earth.